Frequently Asked Questions
What is tea?
When we refer to tea, we refer only to those beverages derived from infusing the leaves of the Camellia Sinensis plant with water or to the plant products (leaves, buds, stems). Flavored or scented tea refers to tea that has been enhanced by additives of fruit, flower, herb, spice or any other host of wide and varied ingredients. Scenting occurs at the stage of processing the tea as part of the tea masters recipe and flavoring occurs post processing, usually by specialized blenders.
Where does your tea come from?
Tea-For-All is a branded name, using small to mid size importers to source the best products meeting our quality standards for a reasonable price and offer them to our customers under the Tea-For-All brand. Yes there are more and less expensive teas found elsewhere. At Tea-For-All, we have made a conscious effort to make selections based on reasonableness of cost, superb flavor and freshness. We sell teas from all over the world. We do not carry a full line of tea (meaning every tea made) at all the times. There are seasons and limits on availability.
What type of tea do you sell?
Tea-For-All sells Black Tea, White Tea, Green Tea, Yellow Tea, Oolong Tea and Dark or Pu'erh Tea. We keep small quantities on hand so that we always are receiving the freshest available product from our importers.
We also sell a variety of Flavored and Scented Teas. These also are often seasonal so we do not always carry the same products throughout the year.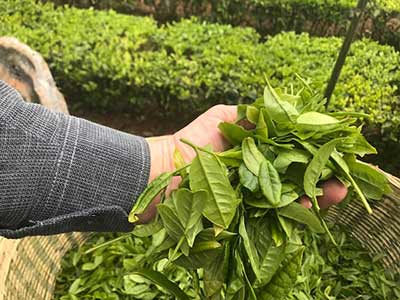 Can you special order a specific tea for me?
Tea-For-All welcomes all inquiries for specialty teas. We are happy to locate that tea that meets your specific requirements. This does not mean that we can always satisfy your request, as there are many factors that affect availability, sources and quality. Please feel free to ask what it is that you are looking for and we will work with you to try and source your special request. If we are unsuccessful in finding your requested tea, we promptly let you know. Once we confirm with you that we can bring in your request, we will ask that you make a deposit. Minimum purchase requirement may apply.
What are the best tea brands you sell?
All of our tea is sold under the Tea-For-All™ brand. We have sourced all of our products to meet our high quality standards using small to mid-size importers. We have made a conscious effort to make our tea selections based on suburb flavor and freshness along with reasonableness of cost.
What if I am caffeine-sensitive- do you carry decaffeinated tea?
Decaffeinated tea is available in limited varieties. Tea has less caffeine than coffee and also naturally contains L-theanine which helps mitigate caffeine. However, if you know that you cannot tolerate caffeine, Tea-For-All™ carries a large selection of Rooibos, Honeybush, Herbal, Fruit and Flower Blends that make tasty infusions both for hot or cold drinks.
May I receive samples?
Tea-For-All gladly sends samples with all orders. Additionally, the "try me" 1 oz size bags are a great way to try a tea before you buy a larger quantity.
Is it safe to send my credit card number over the Internet?
Tea-For-All™ uses PayPal for all transactions. The data sent through the Secure Server is encrypted. It is actually safer to transmit your credit card information through the PayPal Secure Server than to give the number out over the telephone. However, if you prefer, you may place your order by phone by calling our toll-free number 1 855-4-TEA-FOR-ALL (1 855-483-2367). In the PA, NJ, NY area, please call (609) 577-8038.
What is your privacy policy regarding personal information?
Simply Stated: absolutely under NO circumstances do we make any information about our customers available to anyone else. We never sell or trade my customer lists: including names, addresses, phone numbers, e-mails etc. Credit card numbers are destroyed as soon as an order is processed.
How is my order shipped?
All orders are processed within 48 hours and shipped USPS First Class or Priority Mail. You should receive your order within 4-6 business days. Shipping pricing is as follows for Continental United States:
For Tea and/or merchandise orders under $20.00, shipping costs $5.00.
Orders greater than $20.00 (after discounts or coupons are applied) are shipped FREE for addresses within the continental United States.
If you are outside the continental United States or cannot receive U.S. Mail delivery for some other reason, please e-mail us so that we can make other arrangements.
If you do not fall into the free shipping category listed above please note that shipping is calculated based on the package weight and postal code.
Shipping outside of the Continental United States is calculated based on region and weight by the US Postal Service, we will quote your shipping costs prior to purchase, if you should desire. Customer is solely responsible for any import or customs charges.
What is Tea-For-All's return policy?
We always try to provide the highest quality products, but if there is a defect in any product from Tea-For-All we will happily replace it or refund your money. However, we do not refund money or accept returns on bulk (packages of 1 lb or greater) tea purchases unless the heat-sealed closure is still intact. Unfortunately, we do not accept returns on tea simply because you didn't like the flavor. Therefore, we strongly recommend reading the description carefully and purchasing the smallest available package of a new tea before purchasing a large quantity.
Proof of sale is required for all returns.
All returns must be completed within 30 days of purchase date.
If you still have questions, feel free to contact us:
Tea-related questions and questions about the retail and on-line stores: [email protected].
You can also reach Tea-For-All store by calling our toll-free number 1 855-4-TEA-FOR-ALL (1 855-483-2367). In the PA, NJ, NJ area, please call (609) 577-8038.