Discovery Classes offer a snapshot into the world of tea on a variety of subjects.
These classes may take us along the ancient travel and trade routes of tea, or into the legendary tales and folklore of tea, and sometimes we learn to cook with tea or discuss how tea goes from plant to cup!
Did we mention too that you will have the opportunity to taste a wide variety of tasty teas during each Discovery class?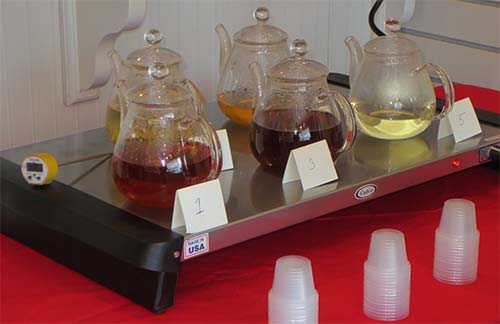 Thank you Debbie, for such a wonderful and informative class! What a wealth of knowledge you shared! Looking forward to any classes I can attend with you in the future! And I LOVE my personal blend!!
I loved the session! If you're a Tea Drinker this is a "must take" class. If you would just like to learn about Teas, this is great too. Class is informal and very informative! I definitely want to take all of Debbie's classes.
First time going to a tea blending class I loved learning the history of tea and the process and getting to blend and make my own tea!!
Interested in hosting a class at your location, home or business? 

Please contact us using the form, or if you prefer, send us an e-mail
or call 
609-577-8038
  and leave a message with your interest.
Unearthing Tea (Great class for beginners!)
This is our tea 101 class where you will learn what tea is; where tea is grown and how it is produced. You will discover the differences between white, green, oolong, black and pu'erh. You'll learn the difference between tea, tisane and Rooibos. We'll taste teas from the top tea producing countries. We will discover tea through its history, and share some tea lore and dispel some common myths! If you are curious about tea, this is a great intro class.
Class Length: 1 ½ -2 hours
Brew it Up-Letting the tea out of the Bag!(brew time, water)
Ok, ready for tea 102? Now that you have learned about tea, you've come to appreciate all that is offered in a great cup you are ready to move beyond the tea bag (or maybe you're not). This is a hands-on class where you will discover several ways of brewing loose leaf. You will discover which methods will work best in your tea world. You will learn that tea is not just a bag, but an experience and a journey. The class will choose the teas for this session, that appeal to their senses and we will brew, brew, and brew some more! The goal of this class is to help you find your personal style of making and serving up a great cuppa.
Class Length: 1 ½ -2 hours
Is Tea a Healthy Beverage?
We hear a lot about tea being a healthy beverage, but is it? What is current? What is accepted as truth when it comes to tea and health? You will need to decide for yourself, but this seminar will share with you the latest studies relative to the tea and health issue. The USDA says tea is considered a food and not a medicine, but tea has been used medicinally in the eastern world for thousands of years. Come to this class to learn the latest findings on the health of tea.
Class Length: 1 ½ -2 hours
Fruits, Flowers and Chocolates – Oh MY!
In this workshop we will taste a variety of flavored tea and tisane. Every beverage featured will be flavored with fruit, flowers and / or chocolate. There are so many flavor possibilities; it is often difficult to know what you may like once it gets in the cup. This is the class to taste a large selection of flavored teas. With endless possibilities available, you can help to narrow down your likes and dislikes.
Class Length: 1 ½ -2 hours
Blooming and Floral Teas
In this workshop we will taste a variety of floral teas and tisanes as well as delight ourselves by experiencing and tasting the blooming teas. A wonderful class to welcome Spring, honor Mom's and prepare for the bridal gift giving season! These teas are tasty, aromatic, entertaining and beautiful – sure to please!
Class Length: 1 ½ -2 hours
Discover Pu'erh Tea!
There is a certain allure surrounding Pu'erh tea. Here you will learn the history of Pu'erh and why it is so desired by many tea connoisseurs as well as health conscious individuals and is even hoarded by others. It is truly a Dark Tea Story! You will soon know why you should add this to your tea chest! We will sample an assortment of both raw and cooked versions and possibly a few flavored pu'erh varieties.
Class Length: 1 ½ -2 hours
A Black Tea Affair
Here is where you really learn the difference between the black tea from a tea bag and the magnificent single origin teas from China, Sri Lanka, Africa and India. We may even have our Taiwanese Black in by this class! We'll explore how black tea is made and the history of black tea (legend has it…it was a mistake). You'll try different flushes of the same tea and learn how Terroir (love that wine term) impacts tea flavor and complexity. Eight to ten different black teas will be tasted in this class.
Class Length: 1 ½ -2 hours
Chai & Latte Tea Drinks
Chai= the word for tea in some places around the world, but commonly known also as a black tea mixed with herbs and spices from India, served with steamed milk. In this class you will experience several chai blends and learn brewing techniques to serve them as straight teas or in the traditional Indian method(s). This class combines well with hands-on experience in making tea latte drinks. We will brew up and whip up latte combinations discovering the fun, the art and the tastiness of these up and coming tea beverages. You will make your own chai blend, package and take home with you!
Class Length: 1 ½ -2 hours
Going for the Green!
All green tea is not the same and you should not find it to be bitter, either!!! Leave your preconceptions about green tea at the door! We will take you on a tour of the world of green teas and teach you how to brew for the flavors they are meant to impart. We will explore the world of green teas from China, Japan, Korea and more!. Each of the countries produces tea in their own unique styles, producing quite different teas. We will learn how many of the green teas are named and we will taste at least seven teas in this class.
Class Length: 1 ½ -2 hours
Longing for Oolong
Let's experience the mysterious world of Oolong tea. These teas are both delightful and complex. They are among the least understood of the teas, they are crafted by tea masters that use their own personal styles, creating unique flavor profiles. We will taste and compare our impressions of at least 6 varieties, representing different Chinese and Taiwanese provinces, as well as selected flavored favorites. We will serve at least one course in a traditional Gong Fu Style.
Class Length: 1 ½ -2 hours
Understanding White Tea
Why of course there is white tea! Very low in caffeine, white tea is becoming more and more popular, white tea has its own character. In this class you learn how tea becomes white tea and discover ways to best enjoy these delicate and beautiful teas. You will taste and compare white teas from China and Africa, experiencing both bud only and whole leaf white varieties. As white tea makes an exceptional flavored and scented tea, we'll taste some as well.
Class Length: 1 ½ -2 hours
Iced Tea Season-here we come!
Prepare for National Iced Tea Month. June is National Iced Tea Month and this class will have all the fixings to make perfect, traditional and fusion iced teas. We will not only brew and taste many varieties, but we will talk about making your own signature blends as well. Like it sweet? We'll discuss options for that too! You will compare the taste of teas iced and cold brewed and learn methods for both.
Class Length: 1 ½ -2 hours
Iced Herbal, fruit and Rooibos Infusions
June is National Iced Tea Month but not everyone can take the caffeine. This class introduces many herbal; fruit and Rooibos ideas to the iced non-teas for the upcoming iced tea season. We will also introduce cold brewing techniques and infusion methods. There is always plenty to taste, and samples to take home and try..
Class Length: 1 ½ -2 hours
It's Tea Smoothie Time!
Smoothies are yummy, healthy and so delicious! Learn how to make them at this workshop with some of your favorite tea beverages. You will stay cool, calm and collect many of the trade secrets on introducing your preferred teas into refreshing, healthy summertime beverages. You will taste, receive recipes and tea samples so that you can whip some of these tasty drinks for yourself!
Class Length: 1 ½ -2 hours
Tracing Tea from the beginnings to the Early Caravan Routes
This tea discovery session will edify the transition in China from tea as a beverage of medicinal and spiritual benefit to becoming a commodity of economic proportions. At the end of this session you will understand the discovery of tea and how it is made. We will then follow teas progression as an article of trade into Tibet, Mongolia and Russia. You will taste from the major categories of tea and some of these Asian and Eastern European specialties!